AtriCure's AtriClip products are the most widely sold Left Atrial Appendage (LAA) management devices worldwide.
The AtriClip devices are epicardially applied to the base of the left atrial appendage (LAA) during cardiac surgery procedures such that the LAA is permanently excluded from the left atrium of the heart. This exclusion eliminates blood flow and electrical communication of blood between the left atrium (LA) and the LAA and results in the electrical isolation of the LAA from the rest of the heart.1-4
97% successful LAA exclusion5* resulting in the electrical isolation of the LAA1-4,6,7
In a published meta-analysis of over 900 clip placements, the authors observed there were no device migrations and no device related complications with more than five years follow-up.
A human clinical study found that within minutes of the epicardial application of the AtriClip Device, the LAA becomes electrically isolated from the left atrium and ischemic injury results in the cessation of electrical activity in the LAA.2 Postoperatively, the excluded and necrosed LAA is resorbed and no longer a factor in the propagation of electrical activity.3,4,6
Hallmarks of AtriClip Device Excellence
Epicardial Exclusion
Implant is not in the blood stream
Ischemic injury electrically isolates the LAA
Atrophy and resorption of the LAA
Dynamic Closing Force
Continuous closing force maintains LAA exclusion throughout changes to the tissue caused by ischemia.
Parallel / Linear Closing
Minimized occurrence of tissue folds with optimal apposition of tissue along long axis of LAA ostia
Tissue Compression / Atraumatic
No cutting, non-piercing, and atraumatic compression reduces risk of tissue tearing and bleeding
The AtriClip devices are available on a variety of delivery systems optimized for open concomitant procedures as well as minimally invasive surgery, both through a thoracotomy and a port.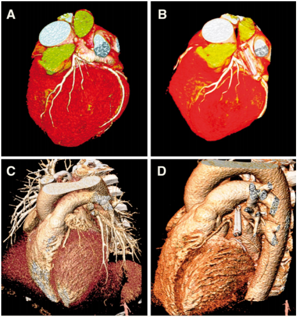 Computed tomography (CT) before and at 3-year follow-up after AtriClip device implantation.  Exemplary CT before AtriClip device placement (A and C) and after implantation depicting the AtriClip device in stable position and fully excluding the left atrial appendage at a 3-year follow up (B and D).8